For our ladies' book club next month at church, while people are getting caught-up on finding and reading the next book, we are studying Proverbs. This was inspired by the author of our last book, Liz Curtis Higgs, who is working through a 50 Favorite Proverbs Bible study on her blog. We're each planning to bring a single Proverb to the group and talk about it. I've been preparing for this by reading Proverbs, and I've already found many more favorite proverbs than just one. Since I can't take them all to our book club, I've decided to blog about them. I've selected five from the first ten chapters of Proverbs to share here.
In other news, my father has started a blog called Baptism For Life. If you like my Christian posts every Saturday, you'll probably like his writings.
1: Repentance
Turn at my rebuke; surely I will pour out my spirit on you; I will make my words known to you. (Prov. 1:23)
This is wisdom personified and speaking, but I think from the way it is written (and the fact that, as scripture, it is inspired by Him) we can attribute these words to God. It is a promise, and a call to repentance. If we turn when we hear His reproof, instead of ignoring Him, He will pour out His spirit on us and teach us by revelation.
2: Security
But whoever listens to me will dwell safely, and will be secure, without fear of evil." (Prov. 1:33)
This is a comforting reassurance of God's protection for those who serve him — both to give them safety and to guard them from anxiety. Psalm 112:7 says, "He will not be afraid of evil tidings; his heart is steadfast, trusting in the Lord." It is not necessarily that we will be protected from every bad thing, but a promise that God will be there for us through every thing. His peace "will guard your hearts and minds through Christ Jesus" (Phil. 4:7).
3: Fearless
Do not be afraid of sudden terror, nor of trouble from the wicked when it comes; for the Lord will be your confidence, and will keep your foot from being caught. (Prov. 3:25-26)
I've always been partial to, and comforted by, the "do not fear verses." I struggle with fear and anxiety, but it comforts me beyond measure to know that I can turn that fear over to my Protector, who is the most powerful Being in existence. His is our confidence, and no one is able to take us out of His hands (John 10:28-29).
4: Relationship
My son, keep your father's command, and do not forsake the law of your mother. Bind them continually upon your heart; tie them around your neck. When you roam, they will lead you; when you sleep, they will keep you; and when you awake, they will speak with you. (Prov. 6:20-22)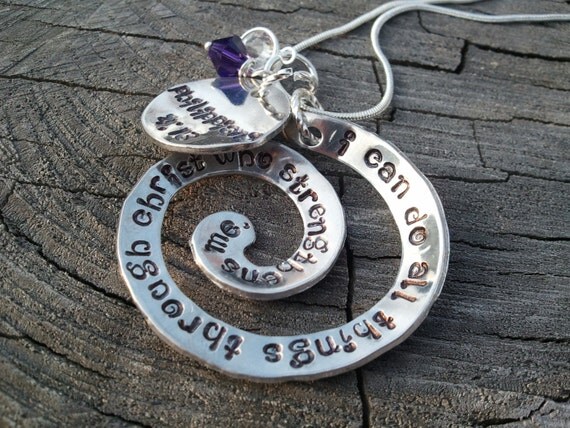 As Liz Curtix Higgs said when writing about Proverbs 3:3 (which I would list as a favorite, but she covered it thoroughly in her post), we need to keep God's words close to us. We need to read and study the Bible, continually binding it to our hearts, fall asleep with God's words in our minds, and wake to let Him talk to us again. We might, as she also suggested, quite literally wear them around our necks.
5: Love
Hatred stirs up strife, but love covers all sins. (Prov. 10:12)
When I read this verse, I wondered why it wasn't the first thing that came to mind when I thought of favorite Proverbs. The conditions of our heart spill out into our lives, either to stir up strife or to promote peace. When Peter quotes this proverb, he says "above all things have fervent love for one another, for 'love will cover a multitude of sins'" (1 Pet. 4:8). This, along with 1 Corinthians 13, express how very important love is — "above all things." We must be on guard that our lives are expressions of love that covers sin and promotes peace, rather than expressions of hatred that leads to discord.
What are some of your favorite Proverbs? Why do those verses speak to you?